VICENTE AMIGO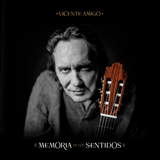 Vicente Amigo | Memoria de los Sentidos

1. Amoralí, (con Potito)
2. Guadamecí
3. La Fragua (con El Pele)
4. Puente de los Orfebres (con Farruquito)
5. Sevilla
6. Plaza de las Sirenas (con Pepe de Pura)
7. Tientos del Candil (con Miguel Poveda)
8. Las Cuatro Lunas (con Pedro el Granaino)
9. Réquiem (con Niña Pastori, Arcángel, Miguel Poveda, Rafael de Utrera y Pedro El Granaino)

Release
24 -2- 2017
Bestellen
www.vicente-amigo.com

MAARTEN PIETERSMA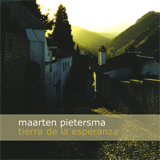 Maarten Pietersma | Tierra de la Esperanza

Release
November 2016

Tierra de la Esperanza
De nieuwe instrumentale cd van de Arnhemse flamencogitarist Maarten Pietersma bevat 12 nieuwe instrumentale tracks.
Inhoud
1. Tierra de la Esperanza (Tangos)
2. La Fuente de la Vida (Solea por bulería)
3. Una Tormenta Buena (Bulería)
4. Tres Mil Deseos (Tangos)
5. La Guitarra (Solea)
6. Com-pas-ión (Alegría)
7. Vuelo (Bulería)
8. Cajaría (Bulería)
9. Luna
10. Nova Floresta (Bossanova)
11. Flamenco Siempre (Bulería)
12. La Primera Estrella (Rondeña)
Bestellen
Deze CD is te verkrijgen, door een mail met je naam en adresgegevens te sturen naar This email address is being protected from spambots. You need JavaScript enabled to view it. en € 9,95 (€ 11,95 plus € 2,- verzendkosten) over te maken op 14.64.80.848 ten name van M.L. Pietersma te Arnhem o.v.v. "Cd Tierra de la Esperanza - Terremoto".

Info
Music samples op YouTube: https://youtu.be/gZfIDRFrhfI
EL PERIQUIN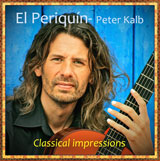 El Periquin | Classical Impressions
While his previous 4 CDs contain acoustic flamenco guitar music, this disc is special and different.

10 themes of 10 composers:
compositions by Barrios, Tarrega, Bach, Bizet, Sagreras, Rodrigo, Lauro, de Falla and Kurylewiscz.
The album starts with "El Periquin's" own composition "Bajo el Cielo" arranged by renowed flamenco arranger J.A . Amargos.

Besides the flamencoguitar, new on this album is the use of a fretless. This enhances the western scales in these compositions.
"They represent special moments in my life when I was inspired by their joyfulness and cheer. I am happy to share the clarity and joy I experienced creating and playing these
partially improvised arrangements."

Release
2016

For listening tracks, click this link
http:/elperiquincomalbumclassicalimpressions/

Contact
This email address is being protected from spambots. You need JavaScript enabled to view it.

Ordening this CD
Send an e-mail with your name and address, and transfer €9,95 to bankaccount
NL20 INGB 0005 0442 42, on name of J.P.C. Kalb and we'll send you a hardcopy

Website
www.elperiquin.com
MUJER_KLÓRICA
CD Mujer_Klórica - Alicia Carrasco
por Adela Carrasco/aceves mejías

To be presented at Lleno de Flamenco, 22 juni 2014
Paradiso - Amsterdam

Música Jose Manuel León
Letras Pablo Villanueva, J.J. Téllez, A. Carrasco, León
Colarobaciones Carmen Linares, Diego Carrasco

Músicos
Kike Perdomo: saxo
Borja Barrueta: batería
Tino di Geraldo, Miguel Hiroshi: percusiones
Martín Leiton: bass
David León: percusiones
Cepillo: cajón y palmas
Leonor Leal: danza
Mara: coros
Pastora: coros
Margari: coros
Javier Galiana: teclado
Jose Manuel León: guitarra

Producent: Jose Manuel León y la Factoria modular
Foto's: Raúl Rosillo

Release
2014

Inhoud
1. Guajira de un presente sordo
2. la manola
3. El navegar de un Sueno
4. Mi aliento
5. Simulacro
6. Olores de mejorana
7. Una nueva sociedad
8. Vidalikia
9. Padre y segaó
10. Nana de Manuel

Bestellen
Contacto
T: 0034 645 589 128 / 652 358 056
Email: This email address is being protected from spambots. You need JavaScript enabled to view it. This email address is being protected from spambots. You need JavaScript enabled to view it.

www.facebook.com/pages/MUJER_KLÓRICA/202345939825567
http://twitter.com/MUJER_KLORICA
www.myspace.com/lafactoriamodular
EL PERIQUIN
El Periquin | De Madrid al Cielo
EL Periquin - guitarra flamenca
Paquete - mandola (6, 8) percussión (2, 4, 6, 8)
Rafita - Cante (1)
El Piculabe - Cante (8)
Yelsi Heredia - contrabajo (6, 7)
Sabu Porrinas - percusion, caja, djembe (1, 2, 6, 8)
Juan Motos - percusión, caja (4)
José Suárez - percusión (4, 6)
Palmas de Jerez

Todos los temas compuestos por El Periquin
Letras - Juan Antonio Salazar
Release
1 Februari 2013

Inhoud
l. Buenos Flamencos (bulería) 4:05
2. Sedona (fandangos de huelva) 3:25
3. Calle Amor de Dios (taranta) 3:45
4. Playa de Cádiz (alegrías) 3:28
5. Sin Palabras (soleá) 3:13
6. Sol de Primavera (tanguillos) 3:15
7. Mi Farruca (farruca) 3:52
8. Barraka (seguiriya) 4:23
9. Gitana Rubia (rondeña) 3:53

Producción - Juan Jose Paquete Suarez y El Periquin
copyright 2013: El Periquin

Mezcla - Alvaro Mata
Mastering - Jaap Berends
Edicion - Paquete y El Periquin
Grabacion - 5 - 18 diciembre 2012 en el Estudio de Paquete Madrid
Diseno grafico y fotografia - Martin van der Steen

'Mi Farruca' dedicada a Mr. Metheny, 'Sedona' a tos indigenas americanos, Sin Palabras' a Adriana, 'Sol de Primavera'a Bob y Dymph, "Calle Amor de Dios' a Pedro Perez (in memoriam), 'Gitana Rubia' a Ellen Helmus (in memoriam).

Agradecimientos:
A Tomatito por su apoyo incondicional, a Paquete y a Loli por su hospitalidad y su gente, por su guitarra, por su afinacion y musicalidad, su ambiente Flamenco donde siempre toque muy agusto, a Antonio Camuñez Antdujar, a Juan Antonio Salazar, a todos los musicos que han participado con un trabajo fenomenal, dandole vida al disco, a Alvaro por la excelente mezcla, a Jaap como siempre, a Martin por su arte, a Adriana por sus ideas, a Cathrin por aguantarme y estar conmigo, a Miriam es muy dificil encontrar las palabras para ella y del trabajo juntos lo dejo en silencio sabiendo que ella sabe el significado.

Persbericht: El Periquín 'De Madrid Al Cielo'
Naast internationale optredens in theaters in New York, Spanje, Portugal en Marokko was El Periquín de afgelopen jaren o.a. te zien in de Nederlandse theaters als solist bij The Rosenberg Trio en samen met Laura Fygi.
Zijn eerste album 'Sonakay' leverde El Periquín al de primeur op om als eerste Nederlandse flamencogitarist in Spanje verkocht te worden, met o.a. lovende kritieken in El País.
Met 'De Madrid Al Cielo' heeft El Periquín opnieuw een primeur te pakken als eerste Nederlandse flamencogitarist opgenomen in Madrid, geproduceerd samen met niemand minder dan Juan José "Paquete" Suárez. Deze produceerde o.a. voor wereldberoemde flamenco artiesten als Paco de Lucía, Diego "El Cigala" en Tomatito, die ook tijdens de opnames van 'De Madrid Al Cielo' geregeld in de studio van Paquete kwam luisteren.
Madrid is de wieg van de flamenco, waar El Periquín 20 jaar geleden de basis legde voor zijn carrière als flamencogitarist. Op eigen wijze brengt El Periquín op 'De Madrid Al Cielo' niet alleen populaire stijlen, maar toont zich ook meester flamencogitarist in de meer traditionele stijlen, met verrassende en prachtige composities. Begeleid door topartiesten van de flamenco van vandaag.
Een must voor iedere muziekliefhebber!

Website
www.elperiquin.com
EDSART UDO DE HAES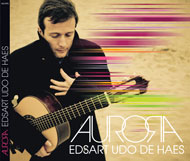 Edsart Udo de Haes | Aurora
Edsart Udo de Haes – guitar, laut
Udo Demandt – percussion
Carlos Denia, Erminia Fernández Córdoba – 'cante'
Mario García – 'cante' track 1
Franklin Heilijgers – fretless bass
Oene van Geel – alto violin
Remko de Landmeter – traverse flute & bansuri
Arturo Ramón – 'palmas'

Release
2012

Inhoud
1 rumba/tangos El cielo
2 bulerías Perseas
3 preludio A los maestros
4 tangos Un palmo de tierra
5 alegrías Recuerdos de una noche de verano
6 fantasía Eeuwigelaan
7 bulerías A la vida nada le pido
8 soleá por bulerías Lluvia de mayo
9 rondeñas Cogí un pájaro de un nido

Label: NLDisco
Composition of all themes: Edsart Udo de Haes
Recording and mixing: Arturo Ramón, Tuti studio, the Hague, Netherlands.
Mastering: Kadifornia studio, Cadiz, Spain
Grafic design: Sue Cowell, www.atomodesign.nl
Labelnummer; NLD 0170 [nl disco]
Barcode; 713958931721

Edsart Udo de Haes
Edsart Udo de Haes liet zich inspireren door de ongrijpbare schoonheid van het poollicht 'Aurora'. Deze inspiratiebron is terug te horen in het resultaat: zoals de dansende kleurenbundels samenkomen in het poollicht, zo komen de verschillende stijlen van traditionele flamenco, verhalende muziek, klassiekke- en lichte muziek samen op deze CD.
Op deze CD spelen naast de top van de Nederlandse flamencoscène, ook muzikanten uit andere disciplines mee: zoals de onstuimige jazz-altviool van Oene van Geel en een meditatieve Indiase bansuri van Remko de Landmeter.
Edsart Udo de Haes (1981) studeerde klassieke en flamencogitaar aan het conservatorium in Amsterdam. Hij vervolgde zijn opleiding als flamencogitarist in Sevilla, Spanje. Edsart treedt op dit moment op met diverse gezelschappen in binnen- en buitenland als flamencogitarist.

Website
www.edsartudodehaes.nl

Bestellen
De CD is te bestellen via This email address is being protected from spambots. You need JavaScript enabled to view it. onder vermelding van 'bestelling CD Aurora - Edsart Udo de Haes' en vermelding van Uw naam en de adresgegevens waar de CD naar toe moet worden gestuurd.
U ontvangt dan een email met details voor de betaling.
Prijs: € 17,50, inclusief verzendkosten en BTW.
JACCO MÜLLER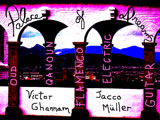 Jacco Müller & Victor Ghannam | Palace of Dreams
"Palace of Dreams" features Jacco Müller on flamenco & electric guitar, Victor Ghannam on oud, qanoun, & electric oud.
Since 2009 Victor and Jacco are performing and recording their unique blend of Flamenco and Middle Eastern Music & other elements of rock, jazz, belly dance.

On this album they unite different worlds and cultures, using lyrics in English, Spanish, Arabic, and French, highlighted with Middle Eastern percussion, cajon, Indian tablas, and a rocking telecaster.
Release
2012

Genre: World Music
UPC: 884501761796
Label: Mihrab Records

Contents
1. Angel Azul
2. Patio de los Leones
3. Palace of Dreams
4. Wandering Nomads
5. Velvet Moonlight
6. WaHee
7. Spirits of the Night
8. Ro'oya
9. Old Snake Boots
10. Turquoise Sky
11.Raq's Al Sultana
12.Mirador de Daraxa
13.Dusty roads
14.Reflections
15.Silver Moon

Guest Artist on the Palace of Dreams album
Omar Al Musfi - darbuka, drums, riq & frame drum
Usama Baalbaki - vocals (track 15)
Chiara Mangiameli - vocals (track 1,3 & 15)
Vida Peral - palmas (track 1,2,3 & 11), vocals (track3)
Nidal Ibourk - vocals (track 3 & 5)
Timo Lozano - cajón (track 1)
Gursharan Yash Sandhu - Indian tablas (track 15)
Available
www.Cdbaby.com
www.Amazon.com
www.Cduniverse.com
itunes store
ADRIAN ELISSEN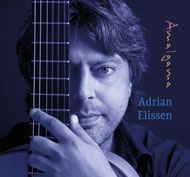 Adrian Elissen | Amalgama
Adrian Elissen - gitaar
Laura Vital - zang
Jeroen v. Hoof - bas
Udo Demandt - percussie
Gil Lopez - palmas
Release
Juni 2012

Inhoud
1. Azahar (Rumba)
2. Desabrio (Taranta)
3. Verdemar (Bulerías)
4. Arabesco (Granaina)
5. Nubes y Claros (Fandangos)
6. Ruben y Rosa (Guajiras)
7. Callejon del Aqua (Rondeña)
8. Pastora (Alegrías)
9. Los Puntales (Soleá)
Bestellen
Deze CD is te verkrijgen via This email address is being protected from spambots. You need JavaScript enabled to view it.
Naam en adresgegevens vermelden waar de CD naar toe moet worden gestuurd.
Prijs: € 17,- (plus € 2.95,- verzendkosten).
Dit bedrag moet worden overgemaakt op girorekening 4954359 t.n.v A. Elissen te Amsterdam o.v.v Amalgama, waarna de CD zo spoedig mogelijk aan u zal worden toegezonden.