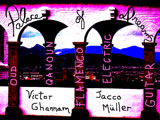 Jacco Müller & Victor Ghannam | Palace of Dreams
"Palace of Dreams" features Jacco Müller on flamenco & electric guitar, Victor Ghannam on oud, qanoun, & electric oud.
Since 2009 Victor and Jacco are performing and recording their unique blend of Flamenco and Middle Eastern Music & other elements of rock, jazz, belly dance.

On this album they unite different worlds and cultures, using lyrics in English, Spanish, Arabic, and French, highlighted with Middle Eastern percussion, cajon, Indian tablas, and a rocking telecaster.
Release
2012

Genre: World Music
UPC: 884501761796
Label: Mihrab Records

Contents
1. Angel Azul
2. Patio de los Leones
3. Palace of Dreams
4. Wandering Nomads
5. Velvet Moonlight
6. WaHee
7. Spirits of the Night
8. Ro'oya
9. Old Snake Boots
10. Turquoise Sky
11.Raq's Al Sultana
12.Mirador de Daraxa
13.Dusty roads
14.Reflections
15.Silver Moon

Guest Artist on the Palace of Dreams album
Omar Al Musfi - darbuka, drums, riq & frame drum
Usama Baalbaki - vocals (track 15)
Chiara Mangiameli - vocals (track 1,3 & 15)
Vida Peral - palmas (track 1,2,3 & 11), vocals (track3)
Nidal Ibourk - vocals (track 3 & 5)
Timo Lozano - cajón (track 1)
Gursharan Yash Sandhu - Indian tablas (track 15)
Available
www.Cdbaby.com
www.Amazon.com
www.Cduniverse.com
itunes store