PRIMOS DEL NORTE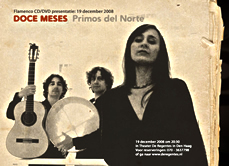 Primos del Norte | Doce Meses
Erminia Fernandez Cordoba - zang
Arturo Ramon - gitaar
Udo Demandt - percussie
Release
December 2008

Inhoud
1. Enero en Graná (bulerías)
2. Viento frío (tangos)
3. De aquí a tu lado (soleá por bulerías)
4. Enamorado en abril (alegrías)
5. El presumido (tanguillos)
6. Dora (rumba)
7. Pecado de estío (bulerías)
8. Aforismos (tangos)
9. Lo olvidado (guajiras)
10. Se me fue en otoño (seguiriyas)
11. Hacia una tierra de nadie (fandangos de Huelva)
12. La pena morena (soleá)

Bestellen
Deze CD is te verkrijgen via www.primosdelnorte.nl
JACCO MÜLLER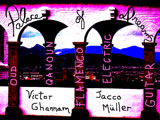 Jacco Müller & Victor Ghannam | Palace of Dreams
"Palace of Dreams" features Jacco Müller on flamenco & electric guitar, Victor Ghannam on oud, qanoun, & electric oud.
Since 2009 Victor and Jacco are performing and recording their unique blend of Flamenco and Middle Eastern Music & other elements of rock, jazz, belly dance.

On this album they unite different worlds and cultures, using lyrics in English, Spanish, Arabic, and French, highlighted with Middle Eastern percussion, cajon, Indian tablas, and a rocking telecaster.
Release
2012

Genre: World Music
UPC: 884501761796
Label: Mihrab Records

Contents
1. Angel Azul
2. Patio de los Leones
3. Palace of Dreams
4. Wandering Nomads
5. Velvet Moonlight
6. WaHee
7. Spirits of the Night
8. Ro'oya
9. Old Snake Boots
10. Turquoise Sky
11.Raq's Al Sultana
12.Mirador de Daraxa
13.Dusty roads
14.Reflections
15.Silver Moon

Guest Artist on the Palace of Dreams album
Omar Al Musfi - darbuka, drums, riq & frame drum
Usama Baalbaki - vocals (track 15)
Chiara Mangiameli - vocals (track 1,3 & 15)
Vida Peral - palmas (track 1,2,3 & 11), vocals (track3)
Nidal Ibourk - vocals (track 3 & 5)
Timo Lozano - cajón (track 1)
Gursharan Yash Sandhu - Indian tablas (track 15)
Available
www.Cdbaby.com
www.Amazon.com
www.Cduniverse.com
itunes store
JACCO MÜLLER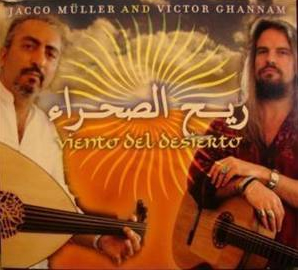 Jacco Müller | Viento del Desierto
Jacco Müller - Flamenco Guitar
Victor Ghannam - Oud
Doris Farhat - Vocals
Omar Al Musfi - Darbuka, Frame Drum, Riq
Timo Lozano - Cajon
Vida Peral - Palmas
Doug Brush - Drums, Udu, Surdo, Caxixi
Release
Augustus 2009

Inhoud
1. Viento del Desierto (tangos)
2. Vida & Sultana (zambra)
3. Ziryab (bulerias)
4. Oscuridad (taranta)
5. Luna Llena (tientos)
6. Caravana (tangos)
7. Oasis (alegrias)
8. Libertad
Bestellen
Deze CD is te verkrijgen via www.jaccomuller.com
BART VAN UDEN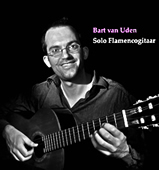 Bart van Uden | Solo Flamencogitaar
Bart van Uden - gitaar

Release
November 2008

Inhoud
1. Farruca*
2. Taranta
3. Colombiana
4. Fandango de Huelva

5. Desde el rio al mar
6. Guajira
7. Petenera
8. Minera
9. Recuerdos de la Alhambra (F. Tarrega)
10. Sevillanas*
11. Bulerias
12. Tanguillos**
* compositie van Bart van Uden
** m.m.v. Miguel H. Garcia
Bestellen
Deze CD is te bestellen via This email address is being protected from spambots. You need JavaScript enabled to view it.
Naam en adresgegevens vermelden waar de CD naar toe moet worden gestuurd.
Prijs: € 15,- euro, inclusief verzendkosten.
Dit bedrag moet worden overgemaakt op girorekening nr. 5825370 t.n.v. Bart van Uden te Amstelveen, waarna de CD zo spoedig mogelijk aan u zal worden toegezonden.
ONNO KRAMER & FRIENDS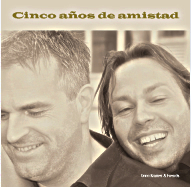 ONNO KRAMER & Friends | Cinco Años de Amistad

Release
Juni 2008
De cd bevat een selectie van nummers die de afgelopen vijf jaar zijn uitgevoerd tijdens de theatervoorstelling Salud al Verano die jaarlijks door Karin Dieters wordt georganiseerd. Initiator van de cd is Onno Kramer. De titel van de cd, "Cinco anos de amistad", ofwel "5 jaar van vriendschap" heeft betrekking op de artiesten die vijf jaar met veel toewijding aan Salud al Verano mee deden.
Bestellen
Deze CD is te verkrijgen via This email address is being protected from spambots. You need JavaScript enabled to view it.
Naam en adresgegevens vermelden waar de CD naar toe moet worden gestuurd.
Prijs: € 17,- (plus € 2.95,- verzendkosten).
Dit bedrag moet worden overgemaakt op girorekening: 6263675 t.n.v. OJI KRAMER te Weesp, waarna de CD zo spoedig mogelijk aan u zal worden toegezonden.
Websites: www.karindans.nl, www.kramersite.nl, www.myspace.com
MAARTEN PIETERSMA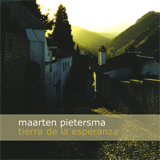 Maarten Pietersma | Tierra de la Esperanza

Release
November 2016

Tierra de la Esperanza
De nieuwe instrumentale cd van de Arnhemse flamencogitarist Maarten Pietersma bevat 12 nieuwe instrumentale tracks.
Inhoud
1. Tierra de la Esperanza (Tangos)
2. La Fuente de la Vida (Solea por bulería)
3. Una Tormenta Buena (Bulería)
4. Tres Mil Deseos (Tangos)
5. La Guitarra (Solea)
6. Com-pas-ión (Alegría)
7. Vuelo (Bulería)
8. Cajaría (Bulería)
9. Luna
10. Nova Floresta (Bossanova)
11. Flamenco Siempre (Bulería)
12. La Primera Estrella (Rondeña)
Bestellen
Deze CD is te verkrijgen, door een mail met je naam en adresgegevens te sturen naar This email address is being protected from spambots. You need JavaScript enabled to view it. en € 9,95 (€ 11,95 plus € 2,- verzendkosten) over te maken op 14.64.80.848 ten name van M.L. Pietersma te Arnhem o.v.v. "Cd Tierra de la Esperanza - Terremoto".

Info
Music samples op YouTube: https://youtu.be/gZfIDRFrhfI
MAARTEN PIETERSMA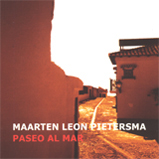 Maarten Pietersma | Paseo al Mar
De nieuwe instrumentale cd Paseo al Mar van de Arnhemse flamencogitarist Maarten Pietersma is een zogenaamde "a flamenca" cd. Het bevat elf nieuwe instrumentale tracks plus twee bonustracks. De gehele productie is in 2008 en 2009 tot stand gekomen en bevat verschillende flamenco stijlen, zoals rumba, tangos, buleria, maar ook r&b grooves en gypsy jazz.
Release
Oktober 2009

Inhoud
1. Tangos del Mar - tangos rhythm (6:59)
2. Prologue (4:15)
3. Entrada (3:52)
4. Playa del Sol - rumba rhythm (7:01)
5. Recuerdo (4:05)
6. Vuelo - bulería rhythm (5:07)
7. Hourglass (5:56)
8. Vamos! - gypsy jazz (4:55)
9. Paseo al Mar (1:20)
10. Yaravi (4:54)
11. Playa del Sol - rumba rhythm (4:31)
12. Tangos Del Mar - tangos rhythm (4:41)
13. TDM Reprise! - tangos rhythm (4:54)
Bestellen
Deze CD is te verkrijgen, door een mail met je naam en adresgegevens te sturen naar This email address is being protected from spambots. You need JavaScript enabled to view it. en € 13,90 (€ 11,90 plus € 2,- verzendkosten) over te maken op 14.64.80.848 ten name van M.L. Pietersma te Arnhem o.v.v. "Cd Paseo al Mar Terremoto". De cd wordt verstuurd in een unieke Paseo al Mar envelop!
CARLOS DENIA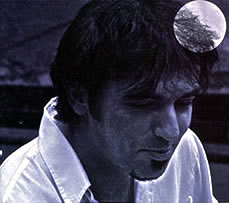 Carlos Denia | Tan alta com va la lluna

Carles Dénia – Zang, compositie, arrangementen, artistieke leiding
Paco Lucas – Bandúrria
Nèstor Mont – Luit, gitaar
Mario Mas – Gitaar
Carlos Cortés – Percussie

www.myspace.com/carlesdenia
Release
2008

Inhoud
1. Tan alta com va la lluna
2. Corre i s´amaga la llebre
3. Malaguenya de Barxeta
4. Ai mare jo vull casar - me
5. De sermons i de consells
6. Bolero de I´infant
7. Com el colomet que vola
8. Jo no cante per la veu
9. D´una nit d´estiu
10. Amb les ganes m´he quedat
11. Malaguenya de Mutxamel
12. Si jo haguera de triar
13. Marineries
14. Tan alta com va la lluna
Bestellen
Deze CD is te verkrijgen via www.carlesdenia.com