ALICIA MARQUEZ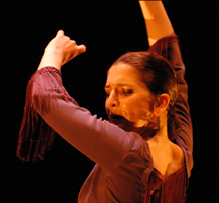 ESTUDIO DE BAILE

Adres: c/ Cantabria No7 Local - Sevilla
Telefoon: 0034 6 0718 9033
Website: aliciamarquez.com
Mail: info.aliciamarquez.com
AMOR DE DIOS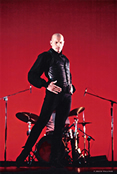 Centro de Arte Flamenco y Danza Española

Adres: c/ Santanta Isabel No5 - Madrid
Telefoon: 0034 91 3600 434
Website: www.amordedios.com

Danslessen Manuel Reyes in Amor de Dios
Website: www.manuelreyesmaya.com
Manuel Reyes was born in Córdoba from a gypsy family in 1974. He starts his dance studies in Madrid at the age of seven, in the following schools: AMOR DE DIOS, BALLET NACIONAL, LUIS FUENTE and CARMEN ROCHE.

He starts his professional career in the shows "MEDEA" and "LOS TARANTOS" from the National Ballet of Spain being only ten years old. Since, he had colaborated with a lot of choreographers and important artists such as: Josã Granero, Joaquãn Cortes, Antonio Canales, Concha Velasco, Blanca del Rey, Merche Esmeralda, Belãn Maya, Rafaela Carrasco etc. He won with his brother Antonio Reyes, the FIRST AWARD OF CHOREOGRAPHY from the SOCIEDAD GENERAL DE AUTORES.
In 1995, he creates his own group going on tour with several Flamenco shows all over the world. Nowadays, he is still working on new projects, gives international workshops in several countries and gives flamenco classes in the mythic academy AMOR DE DIOS.
ANDRÉS MARÍN
Estudio de Baile: "Flamenco abierto"
Andrés Marín, Flamencodanser/choreograaf

Adres: c/ Divina Pastora No14 Local
Sevilla - España

Telefoon: 0034 9 54 388 032
Horario de oficina: 17.30 - 20.30 h

Website: www.andresmarin.es
Mail: This email address is being protected from spambots. You need JavaScript enabled to view it.

Stichting Terremoto werkte meer dan 10 jaar met Andrés Marín door hem jaarlijks uit te nodigen voor dansworkshops, soms twee keer per jaar.
Deze uiterst muzikale begaafde Flamencodanser uit Sevilla is een begrip in Nederland geworden, door zijn adembenemende techniek en avant-gardistische stijl en ideeën, maar die ook uiterst Flamenco zijn.

In januari 2007 trad hij met zijn Compañia op in t Muziekgebouw aan het IJ te Amsterdam, met zijn choreografie/productie "Avanguardia Jondo".

Op zondag 26 oktober 2008 trad hij daar ook op met zijn Compañia, in de openingsvoorstelling van Nederlandse Flamencobiënnale.

- COMPAÑÍA ANDRÉS MARÍN: 'El Cielo de tu Boca'- Nederlandse première.
CENTRO DE ARTE Y FLAMENCO SEVILLA

CENTRO DE ARTE Y FLAMENCO SEVILLA
Adres: Torreblanca No1 - 41003 Sevilla
Telefoon: 0034 954 91 59 71
Website: www.centroflamencodesevilla.com/

Flamencoschool for dancing, singing, guitar and percussion with Miguel Vargas and Esperanza Fernández, among others.
The courses take place at the Centro de Arte y Flamenco de Sevilla
FUNDACIÓN CRISTINA HEEREN

FUNDACIÓN CRISTINA HEEREN
Sevilla - Spanje
Website: www.flamencoheeren.com


Fundación Cristina Heeren
We are a private non profit foundation, created in 1993 by Cristina Heeren, an American citizen, Hispanist, Maecenas and a lover of flamenco. Between 1996 and 2006 our headquarter was a beautiful XVIII c. house in the Barrio de Santa Cruz, but we know have moved. Our principal venue is in the neighbourhood of Heliopolis, were we have the offices and where we give our guitar and singing lessons, the second one is in the district of El Juncal, where we have our dancing classes.

The aims of the Cristina Heeren Foundation are the promotion, the teaching and the conservation of Flamenco in Andalucía but also in the rest of Spain and in any other place that we think necessary. Our finances are mostly private and the benefactors are young students from all over the world, with special attention to the young promising artists from Andalucía
CARMEN DE LAS CUEVAS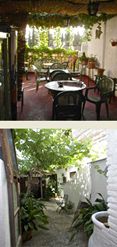 Spanish language, Flamenco dance- and guitar school.

Granada, Spain

Carmen de las Cuevas is accredited by the Instituto Cervantes, and offers Flamenco dance-, guitar-, cultural and Spanish language courses in the heart of Granada, Andalucia, Spain.

It is a school with more than 20 years of experience, offering a wide range of courses of different levels, and is beautifully located in Albaicin/Sacromonte with terraces overviewing Alhambra.

Information: This email address is being protected from spambots. You need JavaScript enabled to view it.
JAVIER LATORRE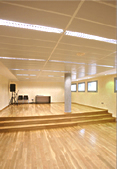 Escuela de la Danza - Javier la Torre

Adres: Teatro de la Axerquía,
Avda. Menéndez Pidal
14004 - Córdoba

Telefoon: 0034 9 670 700 004
Website: www.latorredanza.org
Mail: This email address is being protected from spambots. You need JavaScript enabled to view it.


ROCIO MOLINA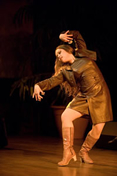 ESTUDIO DE BAILE

Adres: c/ El Majuelo No3 - Madrid
Telefoon: 0034 91 539 25 45
Website: www.rociomolina.com







NOELIA SABAREA

Academia de Flamenco Noelia Sabarea
Algeciras (Cadiz)

Información:
This email address is being protected from spambots. You need JavaScript enabled to view it.
www.noeliasabarea.com

Móvil: 00 34 – 617 56 63 06


CURSOS DE BAILE, GUITARRA, COMPÁS Y ACOMPAÑAMIENTO
Niveles: Principiante, Básico, Intermedio y Avanzado