Workshop Flamencodans
6-7-8 april 2018


Niveau intermedio (>4/5 jr) Techniek - Alegrías

Niveau intermedio alto (>6/7 jr) Taranto

Locatie
ALLE LESSEN
'Studio 95'
Tussen de Bogen 95
Amsterdam

Gitaar begeleiding
Bart van Uden



Niveau intermedio (vanaf 2,5-5  jr erv)
TECHNIEK POR ALEGRÍAS | 2 dagen – 1 uur les
Tijden
7/4: 15.00 – 16.00
8/4: 15.00 – 16.00
Prijs: € 50,-                            

Niveau Intermedio / avanzado (vanaf 6/7 jr erv)
TARANTO | 3 dagen – 1,5 uur les
Tijden
6/4: 20.45 – 22.15
7/4: 16.05 – 17.35
8/4: 16.05 – 17.35
Prijs: €130,- 

Inschrijvingen
>on line via het inschrijfformulier workshops.

Stichting Terremoto - Arte y Flamenco
Mail: This email address is being protected from spambots. You need JavaScript enabled to view it.
Telefoon: 020 676 42 27 (do: 11.30 - 13.30 uur)

Betalingen
U kunt het lesgeld overmaken op IBAN: NL67 INGB 0007 3244 48
ten name van Stichting Terremoto, Amsterdam.
BIC: INGBNL2A (for people from abroad)

Algemene voorwaarden
De betaling per bank dient binnen te zijn vóór 20 maart 2018.
Vanaf 21 maart kunt U alleen nog contant betalen op de 1e lesdag, vooraf aan de les.

De inschrijving is bindend en wordt van je verwacht dat je ook echt komt en aan de betaling voldoet.
Restitutie van het lesgeld bij workshops van Spaanse docenten is niet mogelijk.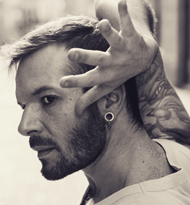 Jesús Fernández is a young Flamencodancer from Cádiz who finds his inspiration in both the very traditional and the very avant-garde influences.

The innovativeness of his character appears evidently through his dancing, as he is always searching for new structures to express the flamenco hevisualizes within.

Fernández has been working with big companies "REW" Manuel Liñan & Daniel Doña
"ROSA, METAL Y CENIZA" Olga Pericet
"TIERRA CANTAORA" Manuel Morao
"EL BURLAOR DE SEVILLA" Rafaela Carrasco
"MEDEA" NNT
"CAIJERÉ" Fundación Villamarta and producing numerous shows "ATADURAS" premier 2011 Festival de Jerez
"A-3 BANDAS" premier en Festival México
"GADITANEANDO" premier Flamenco-Edition Reino Unido, which he has toured around the world.

He also combines his shows from the large theatres with shows at the tablaos, where he develops his improvisational aspects, and the intimacy of the tablaos lets him measure the impact of his dancing and his feelings among the audience.

He has receiv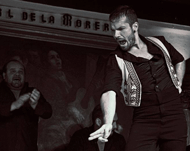 ed several awards, such as the Desplante Minero (2010) at the Festival International del Cante de Las Minas and the Premio al Mejor Bailarín Sobresaliente (2014) by the AISGE Foundation, amongst others.

The need to dance comes from within, and presents the best way to express his feelings. Without words his heart speaks through his body.
The traditional structures are equally important to his dance as his way of facing and understanding them continuously, always a compás, but with playfulness and nuance.

His passion for flamenco and his vocation for teaching makes him a devoted teacher who is committed to the development of his students.





Bewaren
Bewaren
Bewaren