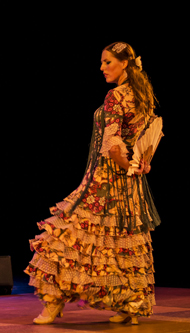 Lessons Flamencodance 2019 / 2020

Locatie
Studio 95 - Javier Romero (centrum)
Tussen de Bogen 95
Amsterdam
Te voet vanaf C S - 10-15 minuten
Bus 18, 21, 22, >Haarlemmerplein, 1 min. lopen

Data, tijden & niveau
De lessen zijn op maandagavond
17.45 - 18.45 Basic Technique, Sevillanas
18.45 - 20.00 Bulerías, intermediate
20.00 - 21.15 Cantiñas, advanced
21.15 - 22.15 Flamencotechnique, compas, rythm advanced    
    (Bulerías, Seguiryas, other palos)




Tarieven
Betaling per 12 lessen:
lessen van 75 minuten € 180
lessen van 60 minuten € 165

Inschrijving & betaling
De inschrijving is pas geldig als ze binnen is en gaat op volgorde van binnenkomst.
Gaat U naar het inschrijfformulier lessen.
Vul het formulier in en verstuur.
U ontvangt na inschrijving, een bevestiging per mail.
De inschrijving is bindend. Restitutie van het lesgeld is niet mogelijk.
Betalingen aan de docente op de 1e lesdag, vooraf aan de les.

Informatie
This email address is being protected from spambots. You need JavaScript enabled to view it.
T 020 - 676 42 27 (do 11.30 - 13.00 uur)
Lesinhoud
In de flamencolessen van Pastora is leren dansen belangrijker dan een dans leren. Je leert zo autonoom mogelijk om te gaan met de muziek en de dans.
Er wordt veel aandacht besteed aan het verstevigen of creëren van een stevige basis en daardoor kunnen verschillende niveaus groeien binnen eenzelfde les.
Er is veel persoonlijke aandacht en er wordt in een goede sfeer hard gewerkt aan de verschillende aspecten van flamencodans: houding, fysiek bewustzijn, arm gebruik, voetenwerk, diverse ritmes.
PASTORA FLAMENCO
Flamencodancer Pastora is a qualified and respected teacher and dancer. For several years she was a teacher at the Academia de Baile Noelia Sabarea in Cadiz, she was teaching in theatreacademies and in Muziekgebouw aan 't IJ.

Her inspiring classes focus on the essence of flamenco. It is more important to learn to dance than to learn a dance. The classes are personal, each person is stimulated to get the best out of him/herself. The ability to express oneself on stage is also stimulated. Classes are a combination of hard work and fun.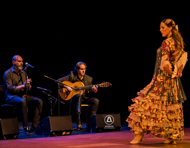 As a performer Pastora worked with many flamenco musicians. She tourd regularly with Noelia Sabarea, with the singer Antonio Carrasco. Also she created several theatreshows.

Pastora was trained by great maestros in Madrid at the academy Amor de Dios, in Seville at the academy of Matilde Coral and she continues to study regularly in Spain.



Bewaren
Bewaren
Bewaren
Bewaren
Bewaren
Bewaren
Bewaren
Bewaren