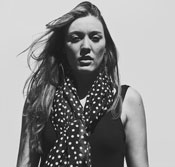 Workshop Flamencozang
SOLOZANG
Za 5 + Zo 6 juni 2021

BEGINNERS | ALBOREÁ
GEVORDERDEN | CANTIÑAS


Locatie
Studio '3 Cats'
Tussen de bogen 42 (aan de achterkant)
Amsterdam

Tram 3 
Trein: CS, 8 min lopen of bus, stopt op Haarlemmerplein

- Na inschrijving, worden de Letras naar je gemaild.
- María Marín begeleidt zelf haar lessen op gitaar.

Tijden
Beginners: >0-3 jr flamencozang / of zangachtergrond
Za 17 april 2021 | 13.00–15.00 
Zo 18 april 2021 | 13.00–15.00 

Gevorderd nivo: >4 jr flamenco zang ervaring
Za 17 april 2021 | 16.00–18.00 
Zo 18 april 2021 | 16.00–18.00

Prijs € 85,- per workshop                        

Inschrijvingen
>on line via het inschrijfformulier workshops.

Stichting Terremoto - Arte y Flamenco
Mail: This email address is being protected from spambots. You need JavaScript enabled to view it.

Betalingen
U dient het lesgeld contant te voldoen, vooraf aan de les.

Algemene voorwaarden
De inschrijving is bindend en wordt van je verwacht dat je ook echt komt en aan de betaling voldoet.
Restitutie van het lesgeld bij workshops is niet mogelijk.
MARÍA MARÍN
Offering singing workshops in the Netherlands comes from the result of interest and enthusiasm, I have perceived from people, who come to my concerts and their wish to learn this music, as well from my enthusiasm to continue sharing the culture that I grew up within a closer way.

In general, flamenco is a difficult subject, especially for beginners, who sometimes feel shy on facing subjects like 'singing'.



For this reason I'd like to propose a more affordable way to learn flamenco through group classes.

I consider that these classes bring not only knowledge of the singing styles, rhythms, etc, but benefit the coexistence between different cultures and develop many skills, such as improvisation, creativity, cooperation and socialization, as well as a way to help to learn or improve a new language.

We'll work on a repertoire adapted to the students level through concepts such as melodic lines, modulations, technique and basic rhythmic patterns (using our own body as a resource: palmas, jaleos, dance..).
Take this experience as a vehicle to express your emotions!









Bewaren
Bewaren
Bewaren
Bewaren
Bewaren
Bewaren
Bewaren
Bewaren
Bewaren
Bewaren
Bewaren
Bewaren