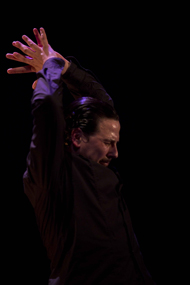 Workshop Flamencodans
23-24-25 augustus 2019

Basico niveau >2 jr: TANGOS 

Intermedio bajo niveau >3/4 jr: BULERÍAS


Locatie
'Studio 95'
Tussen de Bogen 95
Amsterdam

Gitaar begeleiding
Adrian Elissen



Niveau Basico vanaf 2 jr erv
TANGOS | 3 dagen – 1,5 uur les
Tijden
23/8: 18.30 – 20.00
24/8: 11.30 – 13.00
25/8: 11.30 – 13.00
Prijs: € 115,-                            

Niveau Intermedio Bajo vanaf 3/4 jr erv
BULERÍAS | 3 dagen – 1,5 uur les
Tijden
23/8: 20.00 – 21.30
24/8: 13.00 – 14.30
25/8: 13.00 – 14.30
Prijs: € 125,- 

Inschrijvingen
>on line via het inschrijfformulier workshops.

Stichting Terremoto - Arte y Flamenco
Mail: This email address is being protected from spambots. You need JavaScript enabled to view it.
Telefoon: 020 676 42 27 (do: 11.30 - 13.30 uur)

Betalingen
U kunt het lesgeld overmaken op IBAN: NL67 INGB 0007 3244 48
ten name van Stichting Terremoto, Amsterdam.
BIC: INGBNL2A (for people from abroad)

Algemene voorwaarden
De betaling per bank dient binnen te zijn vóór 12 augustus 2019.
Vanaf 12 augustus kunt U alleen nog contant betalen op de 1e lesdag, vooraf aan de les.

De inschrijving is bindend en wordt van je verwacht dat je ook echt komt en aan de betaling voldoet.
Restitutie van het lesgeld bij workshops van Spaanse docenten is niet mogelijk.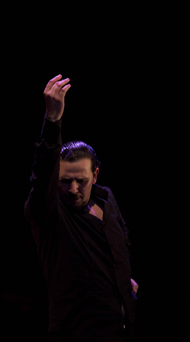 Ramón Martínez (Málaga, 1975) joined the dance company of Mario Maya in 1993.
He has danced with all big names of flamenco dance, such as María Pagés, Javier Latorre, Eva Yerbabuena and Israel Galván ( 2019 -During the Flamenco Biënnale NL).
This all-Andalusian dancer is a popular and driven teacher.
All Ramón needs is a guitarist, he can provide the rhythm and the singing on his own. In his spirited classes his students learn to let technique do its job in the background and instead focus on expression.
Rather than copying the correct dance steps, he feels it's important that the dancers feel the freedom to express themselves. That's what this workshop is about: dance!

Ramón Martínez
Natural de Málaga, inicia su carrera en dicha ciudad, donde se licencia con matrícula de honor en el Conservatorio Superior de Danza Española. Entre sus maestros se encuentran grandes figuras, como Matilde Coral, Manolo Marín o Eva la Yerbabuena.

A lo largo de su dilatada carrera ha recibido prestigiosos premios, destacando los obtenidos en el Concurso de Baile de la Peña Flamenca Torre del Cante en 1992, en el Concurso Nacional de La Perla de Cádiz en 2003 y el Premio Dora Mayor en 2007 (Toronto).
El joven bailaor ha formado parte de la Compañía Andaluza de Danza, con la que ha llevado actuaciones propias a diferentes países de la geografía mundial. Al mismo tiempo, ha compartido escenario con artistas de la talla de María Pagés, Cristina Hoyos o Paco Peña. Con este último realizó la gira de su espectáculo "A compás" , que lo llevó también a actuar en teatros  como el Peacock de Londres, la Opera House de Sydney o el Town Hall de Broadway.

Posteriormente, ha recorrido EE.UU con la función "Flamenco Vivo" y ha participado en la Bienal de Sevilla, colaborando con el insigne Manuel de Paula en "AnCa´Paula". También a nivel local, ha presentado "Desplumados" en la sala Fli de Sevilla y "Canbagui" dentro del ciclo Los Jueves Flamencos de Cajasol en la misma ciudad. Con todo ello, este incansable creador ha cosechado gran éxito de crítica y público.



En la actualidad, además de girar por importantes escenarios, forma a artistas en el estudio flamenco de Alicia Márquez.

ESTUDIO DE BAILE ALICIA MARQUEZ
C/ Cantabria nº7 loca, 41002 Sevilla, España.
T: 0034 95 490 10 97
www.aliciamarquez.com
 




Bewaren
Bewaren
Bewaren