Workshop Flamencodans
3-4-5 januari 2020

Amsterdam


Bulería por Soleá | Basico niveau, >2,5-4 jr erv
Romera | Intermedio niveau, >5-7 jaar erv
Taranto | Avanzado niveau, >8/9 jr erv
 
Spaanse 'bailaora' en 'bailarína' Rafaela Carrasco komt naar Nederland voor een workshop.
Aficionados kunnen tijdens haar workshop, techniek en stijl verfijnen, o.l.v. deze charismatische flamencodanseres en choreografe. Een uitdaging en bijzondere kans!


Gitaarbegeleiding nntb
vanaf 8 deelnemers per groep

Locatie workshop
Studio -109, Q-Factory
Atlantisplein 1, Amsterdam
Route: www.q-factory-amsterdam.nl

Niveau Basico (>2-4  jr erv)
BULERÍA POR SOLEA | 3 uur les
Tijden
3-4-5 januari 2020: 18.00 – 19.00
Prijs: € 90,- | € 85,- bij betaling voor 1 december 2019

Niveau Intermedio (>5-7 jr erv )
ROMERA | 4,5 uur les
Tijden
3-4-5 januari 2020: 20.40 – 22.10
Prijs: € 130,- | € 125,- bij betaling voor 1 december 2019

Niveau Avanzado (> 8/9 jr erv )
TARANTO | 4,5 uur les
Tijden
3-4-5 januari 2020: 19.00 – 20.30
Prijs: € 135,- | € 130,- bij betaling voor 1 december 2019

Inschrijvingen
Via het inschrijfformulier

Betalingen
U kunt het lesgeld overmaken op IBAN: NL67 INGB 0007 3244 48 ten name van Stichting Terremoto, Amsterdam.
BIC: INGBNL2A (for people outside of EU)

Algemene Voorwaarden - Betalingen
Inschrijving voor de workshop is bindend, er wordt van je verwacht dat je komt en aan de betaling voldoet. Restitutie van het lesgeld bij workshops van Spaanse docenten is helaas niet mogelijk.

I.v.m. voorwaarden studiohuur Q-factory, dienen de inschrijvingen 5 weken vooraf aan de workshop binnen te zijn!
Betalingen per bank dienen te zijn overgemaakt voor 15 december 2019.
Vanaf 15 december kunt U alleen nog contant betalen, op de 1e dag van de workshop, graag vooraf aan de les

Stichting Terremoto - Arte y Flamenco
Mail: This email address is being protected from spambots. You need JavaScript enabled to view it.
Telefoon: 020 676 42 27 (do: 11.30 - 13.30 uur)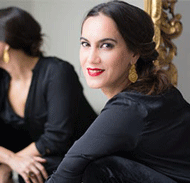 Rafaela Carrasco
(Madrid, Spain) is flamenco dancer with an impresive track record. She has performed through out the world, as well at the most many prestigious flamenco festivals and stages of Spain. Rafaela collaborated with the most famous companies, dancers, singers and musicians and won many prices for her work. As well, Rafaela has her own Company, with which she is performing all over the world.


In 2011 she was invited in Amsterdam for the Flamenco Bienal NL, where she gave a fabulous preformance and as well her workshops.
Her great, exiting elegance and postmodern impressive style is timeless and the purest.

As a teacher, she brings inspiration, energy, passion, dedication and concentration with great sensitivity, technique and style..
She teaches workshops all over the world, as well in Spain: every year on the Festival of Jerez, Granada, Madrid e.o..

More information about Rafaela on her website: www.rafaelacarrasco.com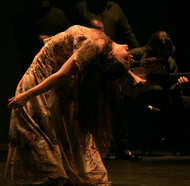 La coreógrafa y bailaora Rafaela Carrasco es una destacada figura del flamenco desde que en 2002 creara su propia compañía, marcada por fructíferas colaboraciones artísticas, tras ganar ese mismo año los principales premios en el XI Certamen de Coreografía de Danza Española y Flamenco.

Ha sido directora del Ballet Flamenco de Andalucía desde 2013 hasta septiembre de 2016.


En su trayectoria destaca su perfil de bailaora y, sobre todo, el de coreógrafa. Desde sus comienzos ha querido repensar, investigar y personalizar el flamenco. Aventurarse. Su objetivo profesional ha sido crear una visión propia de la danza: cálida, elaborada, conceptual, y concebida para un cuerpo de baile en un espacio escénico.

Empecé a dar clases de sevillanas a los 12 años para poder pagarme la academia de danza y nunca he dejado de enseñar.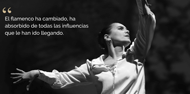 Elaborar el flamenco. Actualizarlo. Para ello, ha absorbido conocimientos de otras disciplinas dancísticas, sin abandonar la raíz flamenca, realizando un camino de ida y vuelta personalísimo en su vivencia y expresión del baile.

Carrasco es una gran conocedora de la danza española y el flamenco, gracias a sus dos grandes maestros: Matilde Coral, con quien aprendió la disciplina, la técnica y la pasión por la danza, y Mario Maya, quien le ofreció su primera oportunidad profesional y con quien descubrió los escenarios. Primero, en la Compañía de Mario Maya y posteriormente, en la Compañía Andaluza de Danza.

Rafaela deja Sevilla para aterrizar en Madrid en 1996 y desde entonces ha trabajado con prestigiosas compañías y figuras: Belén Maya, Israel Galván, Javier Barón, Adrián Galia, Rafael Amargo, Ricardo Franco, Teresa Nieto, Ramón Oller, Antonio Canales, Farruquito, Duquende, Chicuelo o Merche Esmeralda, entre otros.

La bailaora y coreógrafa se presenta también como destacada profesora en importantes escuelas, como la de Amor de Dios en Madrid, el Centro Flamenco de Estudios Escénicos de Granada o el Festival de Jerez, impartiendo cursos internacionales, y como profesora de metodología y didáctica del flamenco en el Conservatorio Superior de Danza de Madrid "María de Ávila".

Es, ante todo, una artista generosa y aventurera.