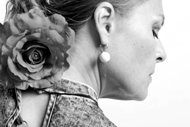 Vida Peral began her dance training and professional formation with the Ensemble Español Spanish Dance Theatre (Chicago) under the direction of Dame Libby Komaiko in 1976. For the following 8 years her studies and company repertoire included the work of Maria Alba, Edo, Victoria Korjhan, José Greco and Nana Lorca and Manola Rivera within all styles of Spanish Dance: Classico Español, Jota and Flamenco.
In 1984 her dedication and career choice took her to Madrid, to Amor de Dios. There she stayed for nearly 10 years, studying, coaching other students and performing:
- Member of and assistant to Paco Romero Dance Company, Barcelona
- Principal in choreographies by José Granero, Palma de Mallorca
- Partner to José Miguel, Tokyo

- Member of the José Greco Company, New York City
- Choreographer for the World Press Gala, Hilversum, Holland
- Workshops in Cologne, Frieburg, Dusseldorf, Oslo, Utrecht
- Guest teacher for the World Music School, Amsterdam
- Guest Choreographer for Het Internationaal Danstheater, Amsterdam
- Choreographer and dancer for "La Vida Breve", Limburg Symphony Orchestra, Concertgebouw, Amsterdam
- Performance series at Johannesburg Civic Theater, South Africa
- Live on PaPaul, VARA TV
- Choreographer and dancer Rene Froger Show of the Year 2001,Ahoy, Rotterdam
- Choreographer for feature film "Leef", Willem van de Sande Bakhuyzen, director.
In 1996 Vida received her Bachelors degree from Northeastern Illinois University (Chicago) for her achievements within the field of Spanish Dance. Now Vida's performances and workshops have brought her to 9 countries of the world: USA, Spain, Holland, Germany, Norway, Belgium, South Africa, Japan and Curacao. Major cities include: Chicago, New York, Detroit, Madrid, Barcelona, Amsterdam, Oslo, Tokyo, Johannesburg, Cologne and Freiburg.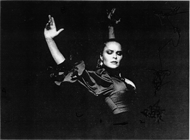 Vida Peral is geboren in Chicago als kind van Litouwse immigranten.
In 1976 leerde ze haar eerste passen van de Sevillanas bij het Ensemble Español Spanish Dance Company, Chicago. Zij bleef acht jaar bij dit gezelschap en groeide in die tijd uit tot eerste danseres en solo-artieste. Ze danste klassieke Spaanse dans, Flamenco en regionale dans (jota).


In 1984 vertrok ze naar Madrid, dansstudio Amor de Dios, en in de acht jaar die volgden was ze eerste danseres en assistente bij de Paco Romero Dance Company in Barcelona, eerste danseres van José Greco Company in The Joyce Theater van New York, solo-danseres en partner van José Miguel in Tokio, en danseres in choreografieën van José Granero in Es Foguero, Palma de Mallorca.
Zij heeft workshops gegeven in Keulen, Düsseldorf, Freiburg, Oslo, Curacao, Johannesburg, Chicago, Detroit, Kansas City, etc.

Als choreograaf heeft zij meegewerkt aan vele projecten, waaronder de productie van het Limburgs Symfonie Orkest "La Vida Breve", Manuel De Falla, Concertgebouw Amsterdam; World Press Gala, Hilversum; Circus Elleboog, Amsterdam; Tromp Muziek Biennale, Eindhoven; Show of the Year 2001 René Froger; Het Internationaal Danstheater, Amsterdam; Theatergroep Max, Delft; filmproductie "Leef", regisseur Willem van de Sande Bakhuyzen; artistieke leiding productie "Tango Meets Flamenco" met Kunstburo Lucien Lecarme, Amsterdam; productie "Imagenes" in nachtclub Panama te Amsterdam. Daarnaast maakt zij al vele jaren originele choreografieën voor haar leerlingen.
Zij geeft fulltime les in Amsterdam, Groningen en Breda en tevens workshops in het buitenland.